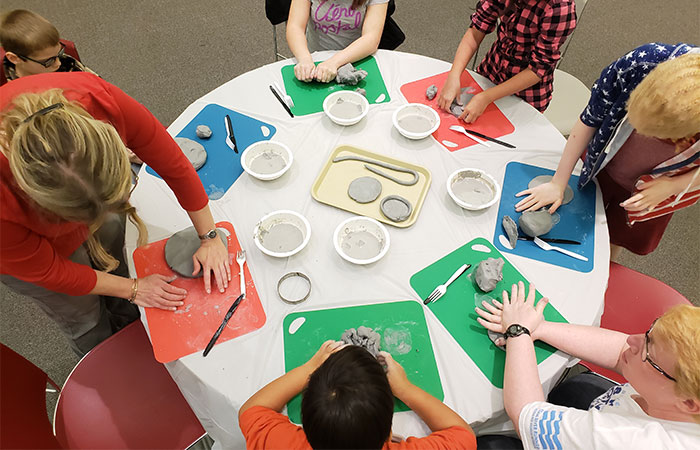 Youth Services
VisionCorps provides quality, family-centered vision services, and enrichment activities to children with vision loss. Certified teachers of the vision impaired and orientation & mobility instructors provide vital information, consultation, and direct services to families, partnering agencies and school districts throughout the community.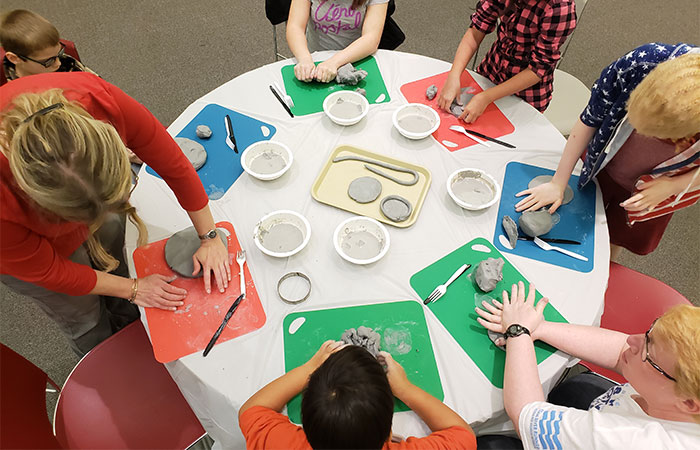 Independence begins at a young age and grows with the child. VisionCorps provides direct services to its youngest clients through early intervention, education, and youth enrichment activities. Our focus is to provide every child with the tools and resources needed to meet age-specific developmental milestones. Through a coaching model that incorporates parents/guardians and the child's natural routines, VisionCorps staff provide recommendations and direct instruction that addresses each child's individual needs. The goal is to help parents understand how vision loss impacts learning, how they can help their child develop and meet each child's unique learning style.

Quote

VisionCorps came to our home. It was such a comfort for me to have someone who could really guide me in how to help my son.

I had no prior experience with visual impairment. It was the beginning of a relationship we have come to depend on.

Rebekah Robinson - Mother of VisionCorps Youth Services Client

Connect with a Youth Services expert!

Camp Cool offers youth enrichment activities to school-age clients, ages 6-12, throughout the school year and summer months. Past activities included art, cooking, rock climbing, kayaking, zip-lining, horse riding, scuba diving, and numerous family-centered outings such as hiking, family picnics, Easter egg hunts, and snow tubing. These fun activities are designed to challenge and empower participants in everyday situations, with the goal of creating independence and confidence now that continues to be developed throughout their life.

Quote

It's been wonderful. My daughters go on Easter Egg hunts complete with audible, beeping eggs. They take cooking classes. They went to summer camp and toured the Whitaker Center.

They go skiing, kayaking, and even scuba diving. They've made friends with other children who are blind or vision impaired. They love it, and we feel part of a supportive community. They are becoming confident in their own abilities. They are learning crucial social skills. And they continue to grow and challenge themselves.

Felicia Ramsey - Mother of VisionCorps Youth Services Clients

Connect with our Youth Services team today!

Teen clients, ages 13-18, are invited to Vision Outfitters' youth enrichment activities offered throughout the year. As students begin to transition to the next stage after high school, VisionCorps is there with activities and programs developed to expand on the core curriculum and help develop skills in: daily living, recreation/leisure, social and self-determination areas, career education, assistive technology, and orientation & mobility.

Quote

Through VisionCorps, my husband and I learned how to help my son make the best use of his remaining vision.

Their enrichment programs gave him opportunities to learn independent living skills and enjoy activities with vision impaired peers. He developed relevant skills and confidence.

Sandy Murphy - Mother of VisionCorps Client

Connect with VisionCorps Youth Services!
Get Started with VisionCorps Services!
Who can we help?
People who may benefit or qualify for VisionCorps services generally meet these guidelines:
Vision loss that cannot be corrected through standard eyeglasses, contact lenses, or surgery
Living in Pennsylvania, specifically Adams, Chester, Lancaster, Lebanon or York Counties
All ages served
Referrals for services are easy!
Eye care physicians can fill out this referral form by following the link below. To refer yourself or others, please complete the contact form or call Mary Lou at 717-205-4141.
Frequent questions about Youth Services
Everyone learns at a different pace and style, and training can take from a few months to years. Learning things like Braille or access technology might be easier for someone who has been blind all or most of their life, while people who lose their vision later on may have more difficulties. Having information and resources as well as maintaining a positive attitude and being persistent are keys to overcoming challenges! VisionCorps works with each client to determine their goals, and develops a personalized plan to reach them.

An Individualized Family Support Plan will be created for you and your child.  VisionCorps staff use a multitude of resources to ensure your child meets age appropriate milestones.  Two main resources include The Oregon Project for Preschool Students who Blind and Vision Impaired, and TAPS; An Orientation and Mobility Curriculum for Students with Visual Impairments

VisionCorps employs highly qualified staff that are certified as Teachers of the Vision Impaired and Orientation and Mobility Specialists.

There is NO cost for youth services. Funds from local counties, Intermediate Units and VisionCorps donors assist in off-setting costs.

Services take place in the child's natural environment. This can include places like the child's home, a relative's home, or day care settings. Basically, the services occur where the child spends the majority of their day.

Children who are blind or vision impaired under the age of 6 years living in Adams, Lancaster, Lebanon, and York Counties are eligible for early intervention services. School-aged children may attend our Youth Enrichment programs that occur throughout e year.

VisionCorps services are provided at no cost. Most services are supported by donations from the community and revenue from the Business & Industry Group. Should clients require assistive devices or other products, there may be a cost involved. VisionCorps can connect clients to organizations to help offset these expenses.

Yes! You may call VisionCorps toll-free by dialing 866-876-8550 or send us a message by visiting our Contact page. We would be happy to talk with you about any questions or concerns you may have before referring yourself or someone else.

Low vision means that even with regular glasses, contact lenses, medicine, or surgery, an individual finds everyday tasks difficult to achieve. Reading the mail, shopping, cooking, seeing the TV, and writing can seem challenging. Traditionally, Low Vision is defined as having a visual acuity of 20/70 or greater in the best eye with correction (glasses or contacts). VisionCorp's rehabilitation program can help people adapt to vision loss and restore lost independence.