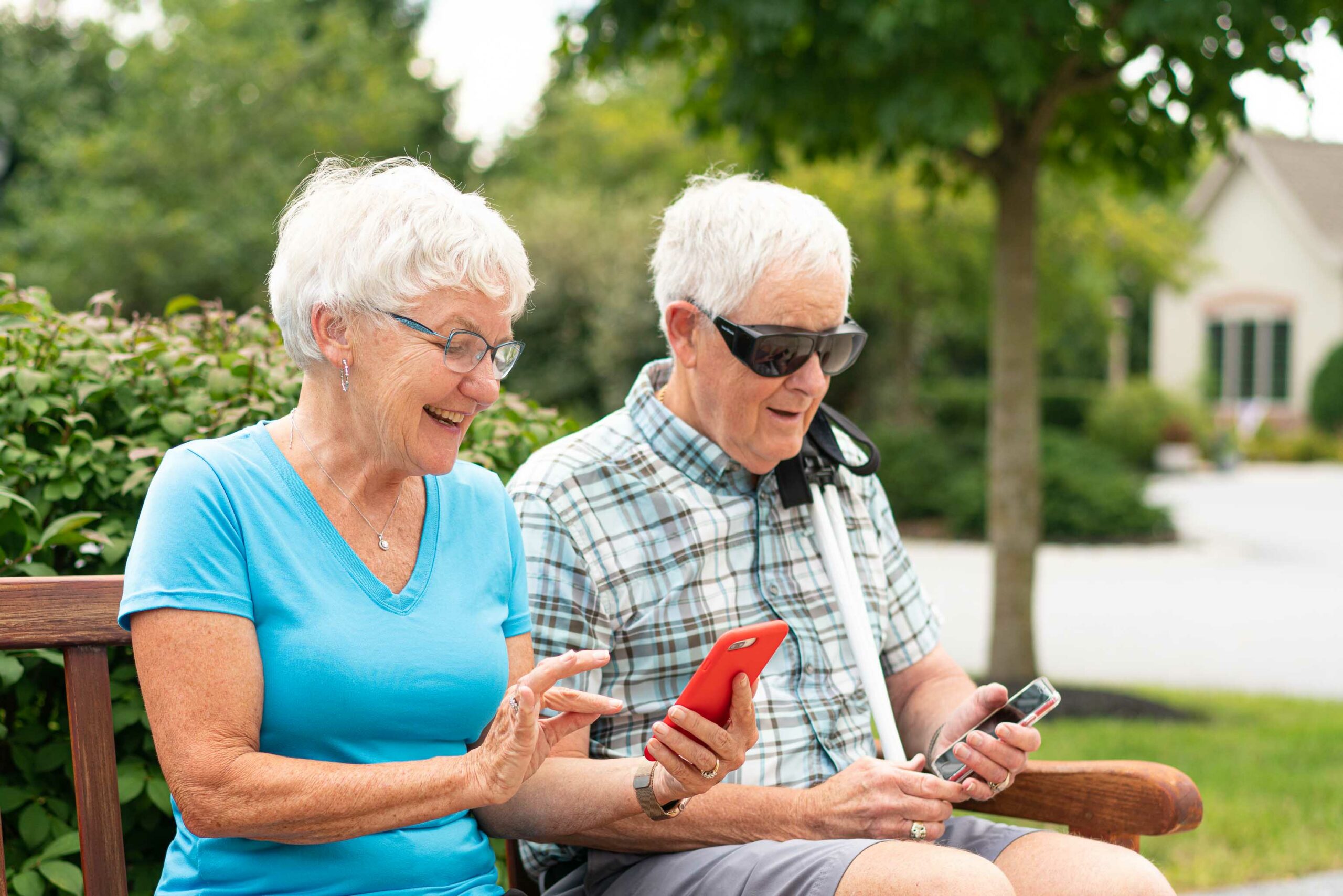 Adult Services
Low vision can affect each person differently. To address this need, we provide individualized and comprehensive rehabilitation programming to 2,000 individuals each year. Through assessment, education, support, and instruction, our goal is to empower individuals to live independently and maintain their quality of life.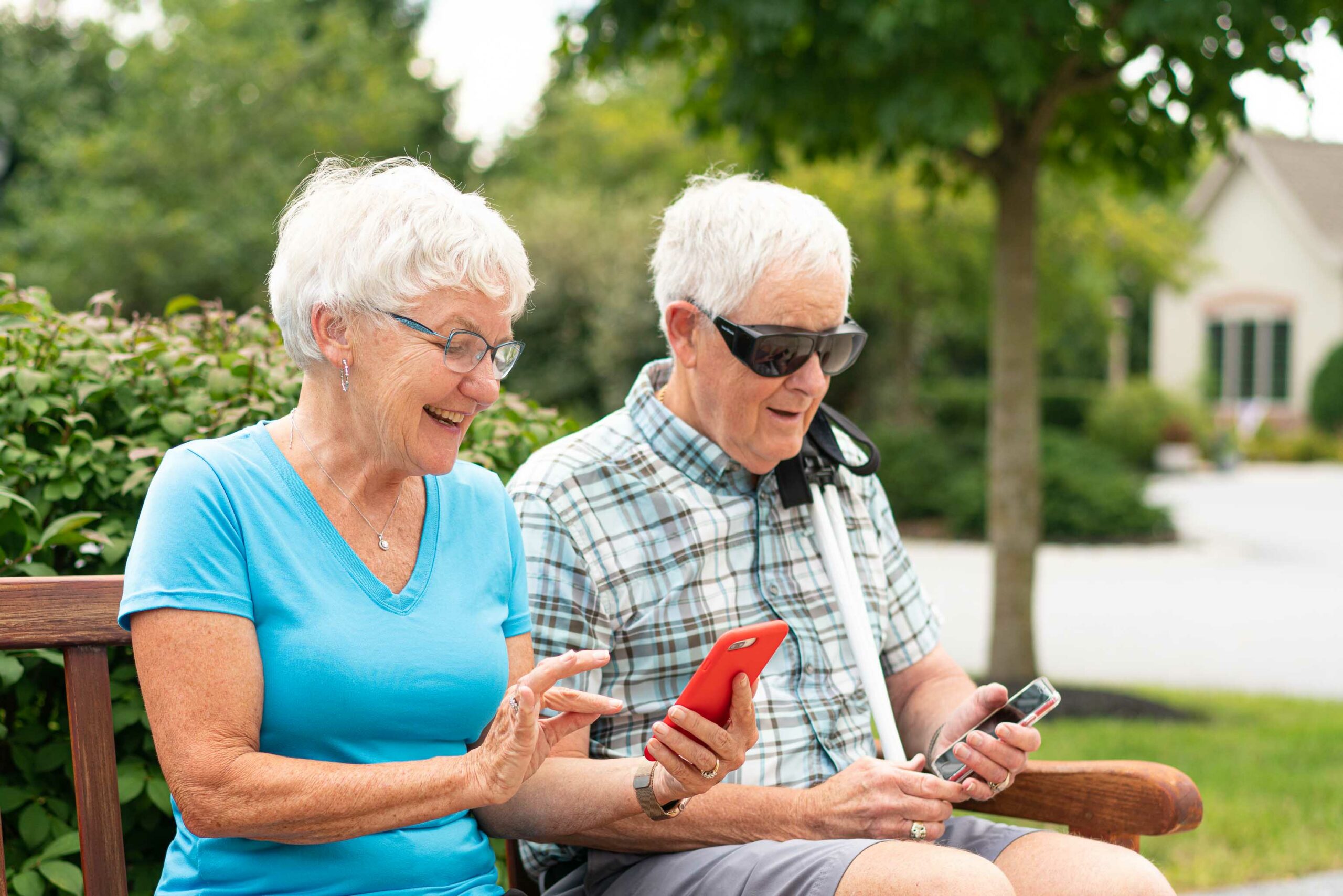 Case Managers and Licensed Social Workers are the first point of contact when services start at VisionCorps. Beginning at the intake, our caseworker/social worker will meet with individuals to assess current needs, help set goals for the future, and coordinate services. Through information and referral services, our qualified staff is able to connect you to community organizations available both locally and nationally.

Educational and support groups are provided in a variety of settings. Facilitated by a social worker or case manager, our groups provide a forum for education, sharing feelings, experiences, and support.

Connect with a case manager!

Vision loss requires individualized solutions. Our comprehensive rehabilitation services can restore functioning after vision loss and maximize independence. Occupational Therapists (OT's) teach individuals how to make the most of their remaining vision.  This can include selecting the right magnifier, learning to use a video magnifier, adjusting household lighting, modifying appliances, medication management, home safety, general access technology, and more. Rehabilitation sessions are designed with your goals in mind.

Quote

I'd been having so much trouble. I burned myself on the stove. It was hard to read.

I've learned a lot from VisionCorps. There are ways to do things without using sight – you just have to do it differently and have special devices to help.

Areli Duran Twyman - VisionCorps Client

Connect with an Occupational Therapist!

Losing your vision does not mean that you have to give up your ability to get around.

Orientation and Mobility (O&M) Specialists empower individuals with vision loss to be independent by teaching them the skills and concepts to travel safely and with confidence. Our O&M Specialists will work one-on-one to evaluate and set goals that match each individual's specific needs enabling them to move around independently in their home, neighborhood, and work environments. Skills can include human guide, how to use a white cane, safely crossing streets, how to use public transit, and more.

Connect with an O&M Specialist!

Emotionally, it can be difficult to adjust to losing your vision. VisionCorps provides opportunities for clients to talk to others who are or have been in similar situations. Knowing you are not alone and that others have overcome these same challenges is often the first step in regaining one's independence.

VisionCorps offers regularly scheduled education and support groups to give individuals a forum to share feelings, experiences, and information, among others with vision loss. With the pandemic, the number of support groups has expanded, offering opportunities to connect with others and address topics such as mobility, recreation, and lifestyle issues.

Quote

I'd been so focused on my own struggles, and in our Support Group, I found myself among some people whose situations were a lot different than mine.

It is a place to bond and make friends. And the folks at VisionCorps are unbelievable! The empathy, concern, and care they offer are wonderful.

Dennis Rewkowski - VisionCorps Client

Contact us to learn more!

Technology empowers people who are blind or low vision to learn, work, and live independently. Whether you are just getting started with technology or an avid user looking to learn the newest tool or trick, VisionCorps can help. Our qualified instructors can provide you training in the use of large print and text-to-speech computer programs, accessible cell phone programs like voiceover or talk-back, optical character recognition (OCR) products, refreshable Braille displays, and more. Through individualized assessment, we create a plan that addresses each person's unique and personal goals.

Quote

My iPad is my best friend; I even bring it with me when I go out to lunch or have dinner out with the family so I can read my own menu by taking a picture and enlarging the text.

If VisionCorps hadn't taught me all the ways to use my iPad, I wouldn't know.

Kay Thomas - VisionCorps Client

Visit our Access Technology Page!

Braille is a system of raised dots, representing characters, which are felt with the fingertips by people who are blind or who have low vision. It is a code that can be written and read in English, Spanish, and several other languages. Our certified Braille teachers can help you learn Braille. You may be new or want to become more proficient. Each lesson is planned based your learning style and needs. Individuals establish their own goals.  Achieving proficiency in Braille is a skill that empowers individuals with vision loss. Braille is vital to literacy. It provides for greater equality through essential access to written information all around us.

Quote

I'm now learning to read Braille. Erika, my Braille instructor, calls me her prize pupil!

I am so grateful for VisionCorps. I would never have known all this stuff if it hadn't been for them.

Jeff Hostetter - VisionCorps Client

Contact us to learn more!
Quote
VisionCorps is wonderful. We put buttons on my microwave so I can use it myself. I have better lighting now, and I use a portable video magnifier.
I hadn't been able to read the time on my alarm clock at night, and now I have a talking clock. I can tell my black slacks from my navy-blue ones because I have a safety pin in the waistband.
Kay Thomas - VisionCorps Client
Get Started with VisionCorps Services!
Who can we help?
People who may benefit or qualify for VisionCorps services generally meet these guidelines:
Vision loss that cannot be corrected through standard eyeglasses, contact lenses, or surgery
Living in Pennsylvania, specifically Adams, Chester, Lancaster, Lebanon or York Counties
All ages served
Referrals for services are easy!
Eye care physicians can fill out this referral form by following the link below. To refer yourself or others, please complete the contact form or call Mary Lou at 717-205-4141.
Frequent questions about Adult Services
Everyone learns at a different pace and style, and training can take from a few months to years. Learning things like Braille or access technology might be easier for someone who has been blind all or most of their life, while people who lose their vision later on may have more difficulties. Having information and resources as well as maintaining a positive attitude and being persistent are keys to overcoming challenges! VisionCorps works with each client to determine their goals, and develops a personalized plan to reach them.

There can be costs for direct Occupational Therapy services covered by insurance. Co-pays and deductibles vary depending on individual plans.  For those with Medical Assistance or without any health insurance, funding through other resources is available. Although low vision aids are not covered by Medicare or insurance, VisionCorps' case managers may be able to access other available resources if these costs are not affordable.

You can be referred by your eye care physician or refer yourself. We then ask for a report from your eye doctor to ensure we are providing you with the services you need based on your eye condition. Contact Mary Lou at 717-205-4141 or mkubicki@visioncorps.net

VisionCorps services are provided at no cost. Most services are supported by donations from the community and revenue from the Business & Industry Group. Should clients require assistive devices or other products, there may be a cost involved. VisionCorps can connect clients to organizations to help offset these expenses.

Yes! You may call VisionCorps toll-free by dialing 866-876-8550 or send us a message by visiting our Contact page. We would be happy to talk with you about any questions or concerns you may have before referring yourself or someone else.

Low vision means that even with regular glasses, contact lenses, medicine, or surgery, an individual finds everyday tasks difficult to achieve. Reading the mail, shopping, cooking, seeing the TV, and writing can seem challenging. Traditionally, Low Vision is defined as having a visual acuity of 20/70 or greater in the best eye with correction (glasses or contacts). VisionCorp's rehabilitation program can help people adapt to vision loss and restore lost independence. 

Many signs can signal vision loss.

For example, even with your regular glasses, you may have difficulty:

Recognizing faces of friends and relatives.
Doing things that require you to see well up close such as reading, cooking, sewing, or fixing things around the house.
Picking out and matching the color of your clothes.
Doing things at work or home because the light seems dimmer than it used to be.
Reading street and bus signs or the name of stores.

If you experience any of these signs, you should get an eye exam. If your eye exam results show you have low vision, you may be qualified to receive services at VisionCorps.