It's Summer — Time for Beep Baseball
Coming off a strong finish in last year's World Series, BSO Philly Fire Beep Baseball team has high hopes for this season.
"We are the only team from the state of Pennsylvania," said Captain Gina Natoli, a supervisor with VisionCorps' professional services division who works on contract closeouts for the U.S. military.
"Last year we placed fourth place in the world, and we are planning to attend the World Series again this year," said Gina, who has been playing the sport since 2015. "It's a very fun action-packed sport!"
Beep baseball is a form of baseball adapted for people who have impaired vision. All players wear blindfolds over their eyes so they have the same level of visual impairments. The sport uses sounds to help direct players. It has a game ball about the size of a softball with an audible beep sound so the players can follow it. There are only two bases, first and third, and the bases also beep.
The main difference with beep baseball is that the pitcher is on the same team as the batter and tries to connect the ball to the bat, said Gina. Then, the player needs to use her senses to listen for the base that's beeping and run to it.
It's played with six athletes who are blind or visually-impaired, one pitcher, and two spotters who are sighted.
The sighted spotters call out a zone, from one to six, to help alert players about positioning themselves into defensive positions to try to get possession of the ball.
When batting, the pitcher is not on the opposing team and wants the batter to get a hit.
"I just really enjoy being active on the field, and especially like the chance to compete in games with teams from around the world," said Gina.
It is open to men and women ages 14 and up who are blind or visually-impaired. Several VisionCorps employees play on the Philly Fire team. One employee, Matt Wallace, has even served as a commentator for the beep baseball team and accompanied the team to the World Series to help broadcast the play-by-play action!
"We encourage all blind and visually impaired athletes – both men and women – to come out and play the sport."
The team's season is from April to August, and interested participants and spectators are welcome to attend practices and games. The Philly Fire beep baseball team practice and plays games at Norwood Park, 270 E. Amosland Rd., Norwood, Pa. 19074. Games are broadcast live on the team's Facebook page, Philadelphia Fire Beep Baseball on Facebook.
Interested in finding out more? Contact Gina at phillyfirebeepbaseball@gmail.com.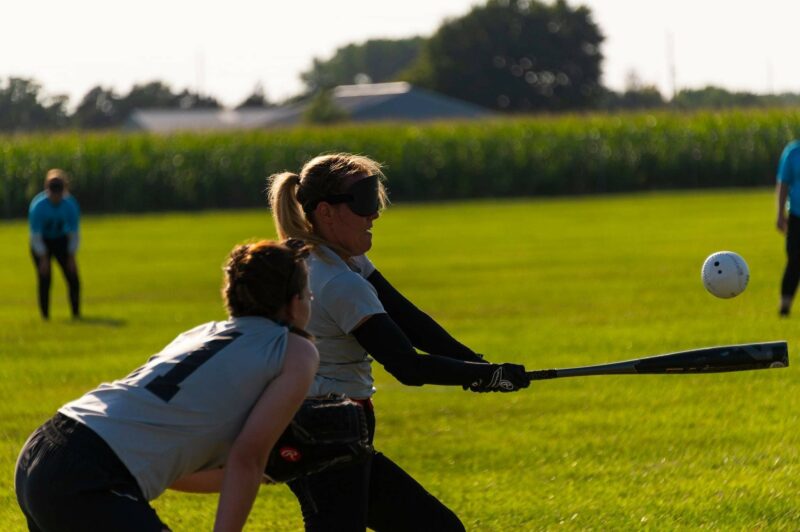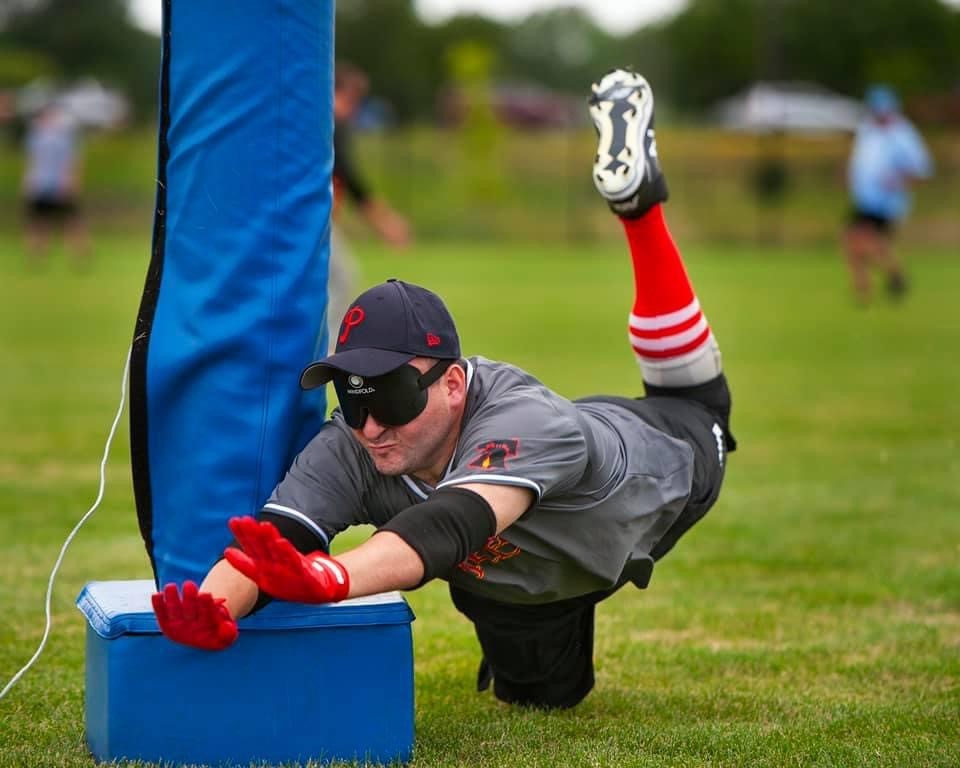 Top pic:  Captain Gina Natoli is swinging at the baseball.
Bottom pic:  John Margist in action on the field.
Posted on
---
Philadelphia Fire Beep Baseball Takes to the Field
Follow the team in its quest to return to the World Series!